"Wow, your job is cool!"
Last Friday I went back to school to spend the day with Year 4 (8-9 year olds), talking about maps and drones, linking Geography and STEM (Science, Technology, Engineering and Maths) subjects.  It was a thoroughly enjoyable day talking about different kinds of maps, teaching basic grid references and how a compass works (and how to stay safe outdoors – I am a Mountain Rescue volunteer after all).
I also surprised the children with a drone map of the school and surrounding area (ortho, point cloud and contours for those wanting a more technical description) that I had been and flown in the week before hand.  I then spent the afternoon talking about safe drone use (and handing out copies of the Drone Code), answered lots and lots of questions about drones and flew a short demo.
It got me thinking, is my job really as cool as these children think?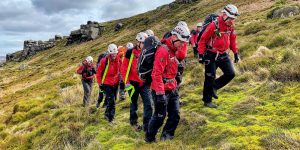 Looking back over the last few weeks, it has been a really diverse mix of meetings, drone operations, updates to documentation, preparing to go back to school and running a business.  I've probably spent a bit more time in the office than usual as the weather hasn't been very drone friendly.
Since attending an OSC writing course at the CAA I've been working on updating our EVLOS OSC and writing new ones for reduced separation distances; this has been a labour of love that I was keen to finish.  Given the weather confined me to the office, it was a good time to get them finished and submitted – especially as renewal looms in July.  I've also made some minor tweaks to the standard documents to reflect the latest legislation changes.
I've also used the time while confined to barracks to catch up on the running of the business; making sure that the books balance, updating the website, catching up on social media and responding to tenders.  I've also taken the time to respond to the consultation on the proposed charges for UK drone registration (if you haven't already there is still time to have your say: https://consultations.caa.co.uk/finance/drone-registration/).  All not exactly fun, but very necessary.
Regulatory documents and administration aside, it's a really, really interesting time to be involved in drones.  It is heartening to see how drone technology is being trialled and adopted to benefit people and the environment.
Last week I visited our local police forces and fire services to talk about drone use in Mountain Rescue (in my voluntary Mountain Rescue capacity).  Mountain Rescue already has strong working relationships with the emergency services and it's great to be able to share their best practice around how best to utilise the technology as another tool when searching for missing people.  This is going to help develop common working standards and will hopefully lead to earlier finds of missing people.
After lots of planning and weather watching, I spent a day in various fields in the East Riding of Yorkshire scanning them with a multi-spectral camera in preparation for next year's crop of potatoes.  The theory is that by using the drone data the yield of the field can be increased by identifying disease and pests early, areas of poor irrigation and compaction.  By identifying these issues, early action can be taken – hopefully reducing the amount of fertiliser and pesticides required as well as increasing the amount of crisps that can be produced!  It was really interesting to learn about spuds and how they are grown on such a huge scale.
The ARPAS community came to the rescue ahead of these flights with their specialist knowledge – I was having trouble finding the instructions for how to calibrate the multi-spectral camera; one question to the ARPAS collective and I was furnished with the user manual.  Thanks folks!!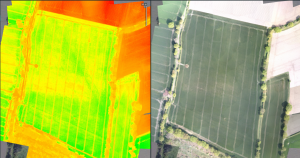 As part of this multi-spectral project, I got to try out another flavour of Pix4D.  Already certified in Mapper, I got to play with Fields – it's very interesting and produces some very colourful views of the fields.  Analysing what it means is beyond my skillset; I need an agronomist to tell me what the data is showing!  Thankfully we have one on the proof of concept team.
I also met with the founder of another drone company for lunch, which we spent comparing notes on the latest technology and innovations.  In their business they have just started to use sensors that are mounted on drones to detect mines that have been laid in war zones.  This drone method of detecting mines is not only quicker but also far safer than sending someone in on foot to manually detect the mines.  It's still at trail phase, but the technology could have a huge impact on the daily lives of many people in historic war zones.
I've managed to find a few hours to test fly and get to know the characteristics of a new aeroplane and have been pondering how to test that a parachute system actually works, without totalling the drone if it doesn't – turning the motors off mid-flight isn't something that I've tried before!  I managed to source a 'crash test dummy' and we're planning the test in the next couple of weeks, which we're going to video from the air and ground.
All in all – it's been a very busy couple of weeks, but I think I'd agree with the children; it is a pretty cool job.
Follow me on Twitter: @dronesondemand
Website: www.dronesondemand.co.uk/