Westminster eForum Conference.
Venue: Central London
This timely seminar will discuss UK drones policy, the future regulatory system, and opportunities for commercial application of unmanned aircraft systems (UAS) in the UK.
We expect discussion to focus on the upcoming Drones Bill, due to be published later this year.
The conference will provide an opportunity to assess the potential for wider commercial and public sector drone use.
We expect discussion on latest developments in use cases including the management, surveying and maintenance of infrastructure assets, supporting the work of the emergency services, drone utilisation in the construction and agriculture sectors, and wider emerging applications.
Delegates will consider what more is needed to support the growth of the sector and to drive continued innovation, in order to ensure the UK is positioned as a global leader in this field – following the recent launch of the UKRI Future of Flight Challenge, which includes £125m of government funding through the Industrial Strategy Challenge Fund.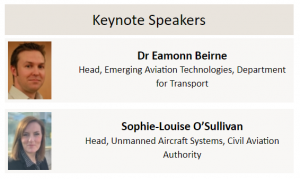 Areas for discussion include what developments may be required to the regulatory framework for unmanned aircraft system operations if fully-autonomous and BVLOS flying were to be enabled on a routine basis.
Delegates will examine what more is needed in terms of technical solutions and enforcement powers to avoid further disruption from rogue use of drones, such as that seen at UK airports in the past year – including airspace restrictions, detection and counter-drone technologies.
It follows the adoption of new EU rules on drone operations, and the CAA's recent publication of plans for their implementation in the UK within the next year.
We also expect discussion on the Government's response to the Taking Flight: The Future of Drones in the UK consultation earlier this year, which set out:
the case for tighter controls around drone use;
plans to develop policy related to the Flight Information Notification System (FINS); and
an expansion of geo-fencing so that inbuilt drone technology can restrict entry into no-fly zones.
With the Science and Technology Select Committee also conducting an inquiry into Commercial and recreational drone use in the UK, further sessions will provide an opportunity to discuss the evolving landscape in terms of regulation, including the compliance challenges facing drones users in the UK, as well as questions around airspace management and liability.