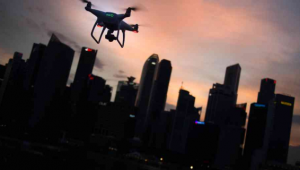 Perran Bonner looks at the current regulation of the UAV industry and whether the speed of technology advances is helping or hindering security services
Speed of change within the 'tech' industry is considerable, however that speed is particularly evident within the unmanned aviation sector, perhaps in some areas almost comparable to that of the IT industry. Recent events and ongoing concerns around unmanned technology and the security sector highlight a significant divide between the two areas and one that needs careful management in the interests of national security.
When considering the security sector as an industry it is an area that typically learns from mistakes or omissions ,often loosing precious time against developing technology. Parallels could be drawn with the internet and security breaches that have recently transposed. This same problem has been manifesting around UAV capability, in part due to the fact that no significant attack has been executed on UK soil. This may be true. However, global patterns have seen an increase in the use of small unmanned aircraft as an attack platform on a tactical (local) level as well as their use for hostile reconnaissance.
The regulatory environment provides limited scope in dealing with this problem for many reasons, not least because those with criminal intent do not seek training, registration or operational process. Parallels can be drawn with many different areas of security concern, such as legal versus illegally held firearms, with few crimes committed by those who follow home office governance. As technology advances smaller and less obtrusive platforms have the ability to detect and avoid or sense their way around a 3D environment. Camera technology has become smaller and much more capable, flight times have been extended as the hunger for mobile phone technology drives the development of Lithium Ion Polymer batteries.
Of course, availability and affordability of unmanned technology is a major factor. For £1,000 you can now purchase a drone that can sense and avoid, fly autonomously, maintain flight for 28 minutes, gather TV qualify imagery and reach extended ranges of 5km. All of this whilst deploying from a case that is no more than a small handbag and is so non-descript that any discerning security officer would be forgiven for missing or dismissing its presence. In the security context such a small drone is covert prior to flight and due to the small size remains so when airborne, not least as few people spend their day looking skyward for threats to their well-being. All of these developments further the vulnerabilities of those wishing to protect people, infrastructure and reputation.
Would regulation help balance these vulnerabilities?