ARPAS-UK was honored to sponsor the UAV PRODUCT AWARD, one the categories in the Counter Terror Awards at Olympia last week. Our newly elected Chair, Gavin Wishart was in attendance and met with the winner, James Cross.
The Counter Terror Awards were staged to recognise the efforts of organisations in both the public and private sectors and their contributions to counter terror strategy in the UK and overseas, as well as the vital role played by the military and emergency services in mitigating terrorist threats and striving to keep the public safe.
The Counter Terror Awards were supported by Counter Terror Business magazine and took place for the first time on 6 March 2018, in association with the Security and Counter Terror Expo.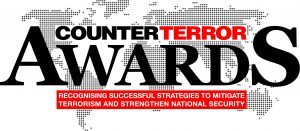 Organisations from the UK and overseas were recognised in ten categories for their contributions to reducing the threat from global terrorism, ranging from Counter Terror Policing to Counter Terrorism Education, as well as the first ever Outstanding Contribution to Counter Terrorism Award.
Shortlist for the UAV PRODUCT AWARD – Sponsored by ARPAS-UK
Presented to the most innovative product developed for the purpose of protection against hostile drones.
· Drone Defence – SkyFence™ electronic countermeasures system
· Robin Radar Systems – ELVIRA® Drone Detection Radar
· OpenWorks Engineering Ltd – SkyWall Counter Drone Technology
· PDA Electronics – Repulse®
· Blighter Surveillance Systems – AUDS (Anti-UAV Defence System)
The UAV Product Award was presented to……
James Cross of Openworks Engineering Ltd for the Skywall product.
· The SkyWall concept is simple; physically deliver a counter-measure up to the target. Capture a drone in a net and land it safely with a parachute.
· SkyWall offers those exposed to the drone threat the ability to physically capture an aircraft and control its descent to the ground.
· The SkyWall system is a combination of a compressed gas powered smart launcher and an intelligent programmable projectile. The first system being released is SkyWall100; a man-portable handheld launcher that is highly mobile and a cost effective way of dealing with the drone threat.