Datganiad I'r Wasg Academi Drones
A Drone Academy is being established at the Snowdonia Aerospace Centre in Llanbedr, giving young people aged between 14 and 19 years old the opportunity to learn how to operate drones and much more.
The Snowdonia Aerospace Centre is one of only two locations in the UK which allow drones to be flown with reduced regulations within a 10km radius of the airfield. This makes it the perfect place for learning all about drones and discovering their possibilities.
Arloesi Gwynedd Wledig and Gwynedd Council are funding the Academy which will run every Saturday between the 15th of September and the 20th of October 2018. Applications are now being accepted for a place at the academy, which will be completely free for young people aged between 14 and 19 years old.
Arloesi Gwynedd Wledig Manager Zoe Pritchard explains "Young people will learn how to use drones safely in a controlled environment. The project will be designed to encourage teamwork, critical thinking, and creativity. There will be demonstrations, hands-on activities, and real-world discussions making learning fun.
"We will have guest speakers from many different fields such as Mountain Rescue, Agriculture, North Wales Police and Photography. This will help to highlight the many new job opportunities that are arising through the developments in drone technology."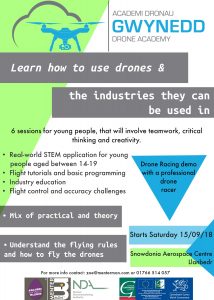 This project has received funding through the Welsh Government Rural Communities – Rural Development Programme 2014-2020, which is funded by the European Agricultural Fund for Rural Development and the Welsh Government. It's also part funded by the Nuclear Decommissioning Authority (NDA) and Gwynedd Council.
Chief Executive Officer at Snowdonia Aerospace Centre Lee Paul explains how the Academy will be a big boost for the local area "Our unique location will help to encourage young people to get involved in a high-tech industry and will introduce them to a brand-new career opportunity. We're very pleased to be involved and proud that our valuable resource can be used to further develop our young people."
For more information and an application form visit http://www.arloesigwyneddwledig.com/wp-content/uploads/2018/09/Ffurflen-Gais-Academi-Drones-Saesneg-Terfynol.pdf  or contact Zoe directly on 01766 514 057 or zoe@mentermon.com
ARPAS-UK is delighted to see such events taking place and are exploring how best we can encourage and support these young people as they take their first steps into the drone world.