In the UK drones are helping engineers to run cables over obstacles that previously would have required a different more cumbersome or risky solution.
Engineers are bringing some of the fastest broadband speeds in the UK to Greater Manchester and they have drafted in a drone to help them to fly a broadband cable across a stretch of water.
The team from Openreach is currently working in Swinton, as part of the multi-million pound Fibre First programme, bringing reliable, ultrafast broadband to tens of thousands of homes and businesses across the city.
Much of the work uses existing infrastructure but as part of building the network from the Swinton exchange to reach a group of around 15 properties close to Worsley, it was decided that an engineering first was needed – the use of a specialist drone.
In the past we've tried all sorts of ways to cross waterways like this – including attaching cables to fishing lines, golf balls and even hammers, which frankly proved hit and miss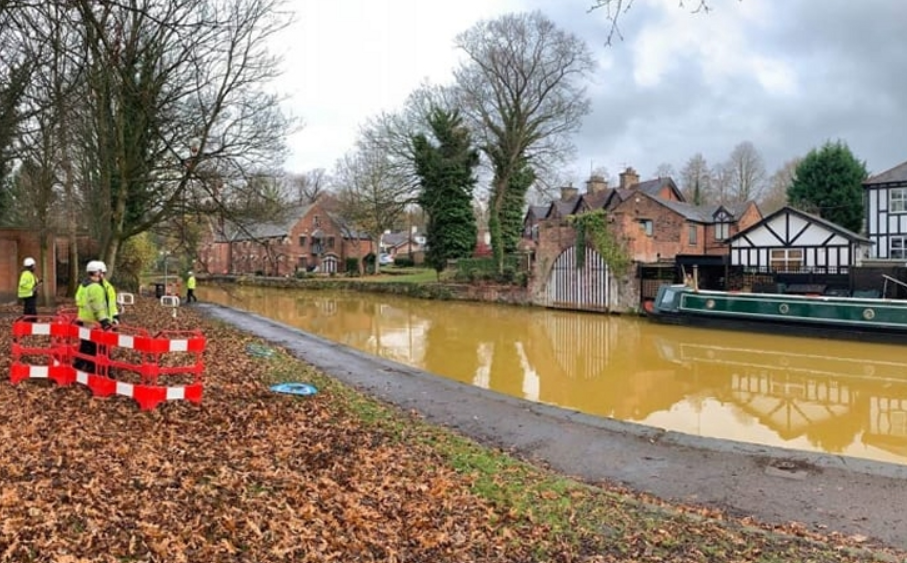 Brian Mellor, Openreach's chief engineer in the local area, said: "Our work in Manchester is progressing really well as we extend our ultrafast network even further. We're always looking for smarter ways of operating, to enable us to work quicker and in a more cost-effective way, as well as keeping disruption to local life to an absolute minimum. The challenge here was getting the cable across around 30 metres of canal, rather than choosing the conventional route that would have involved laying underground fibre cable over a far greater distance.
"In the past we've tried all sorts of ways to cross waterways like this – including attaching cables to fishing lines, golf balls and even hammers, which frankly proved hit and miss.
This is the first time we've used a drone to drop fibre into place anywhere in England, and as a delivery method it's unbeatable
"This is the first time we've used a drone to drop fibre into place anywhere in England, and as a delivery method it's unbeatable. Our engineers drew quite a crowd when they were working, with people fascinated at how we were using this method to build our network. It's no surprise that drones are fast becoming part of our toolkit to reach places like this or in more rural areas where the terrain makes traditional engineering difficult or impossible."
Engineers complete a week's training to become certified by the Civil Aviation Authority in order to fly the drone for commercial purposes, and Openreach has five teams in the UK now approved to fly bespoke drones.
Before taking the Manchester fibre rollout into the skies, Openreach had to notify and seek permission from a number of local organisations, including Manchester Airport.
Earlier this year, the city was announced as one of the first places in the UK to benefit from a multi-million investment in ultrafast speeds by Openreach.
As well as adding even more reliability and resilience to broadband connections and making them less likely to drop out, Full Fibre is capable of delivering download speeds of up to one gigabit per second (1Gbps) – enough bandwidth to stream 200 HD Netflix movies simultaneously.
Matthew Hemmings, Openreach's director for fibre delivery in the North of England, added: "Our engineers love nothing more than a challenge and our Fibre First rollout in Manchester has provided us with a great opportunity to test our skills. We're constantly working on new techniques and technologies to help us take fibre broadband further and faster, and, importantly, to drive down our costs, which helps us go even further.
"This may be one of the quirkier uses for a drone, but innovations like this means we can now deliver high-speed broadband in situations where traditionally it would have been a more time-consuming job."
Ultrafast Fibre-to-the-Premises (FTTP) broadband provides even greater capacity for multiple fixed and mobile devices and things like on-demand video, Virtual Reality gaming and smart home apps. The fibre connection will future proof homes and businesses for decades to come and ensure that Greater Manchester remains competitive on the national and world stage.
The work is a further boost for the region, which earlier this year heard it would benefit from Openreach's unprecedented recruitment drive: more than 280 new trainee engineers are being employed across the North West, including around 80 in Greater Manchester, to help deliver ultrafast broadband.
According to the independent website thinkbroadband.com, more than 95 per cent of Manchester homes and businesses already have access to superfast broadband speeds of 24Mbps and above.
Find out more about Openreach's Fibre First programme at openreach.co.uk/fibrefirst
About Openreach
Openreach is Britain's digital network business. 30,400 people who connect homes, mobile phone masts, schools, shops, banks, hospitals, libraries, broadcasters, governments and businesses – large and small – to the world. Mission is to build the best possible network, with the highest quality service, making sure that everyone in Britain can be connected. Working on behalf of more than 600 communications providers like SKY, TalkTalk, Vodafone, and BT, and our fibre broadband network is the biggest in the UK, passing more than 27 million premises. A platform for Britain's thriving digital economy, which is the largest in the G20.
Openreach are working hard to give people the speeds they need to run and enjoy their daily lives. Over the last decade they have invested more than £11 billion into the network and they now manage more than 160 million kilometres of cable stretching from Scotland to Cornwall, from Wales to east coast England. They are continuing to take that network further – making superfast broadband speeds available to thousands more homes and businesses every week.
Openreach is a wholly owned and independently governed division of the BT Group, and it is a highly regulated business, with more than 90 per cent of our revenues generated from services that are regulated by Ofcom and any company can access products under the same prices, terms and conditions. For the year ended 31 March 2018, they reported revenues of £5.1bn.
For more information visit openreach.co.uk
In 2018 Openreach used a small quadcopter drone to perform a similar cable deployment operation in Scotland, you can read about that here: Drone Connects Broadband by Flying Cable over a River in Scotland.
Permalink: http://dronesuavuas.com/drone-helps-greater-manchester-get-faster-broadband-speeds/