9 January 2019
No.4 Hamilton Place
Lecture
18:00 – 19:00
Terrestrial and oceanic ecosystems across the world are changing. There is a pressing need for data to deliver a functional understanding of the dynamic processes occurring in these ecosystems in a timely and cost-effective way.
Until recently, scientists have relied on data from satellite systems for monitoring such Earth system changes. However, these data suffer spatial and temporal resolution limitations in some systems, which can restrict their utility. Examples of such systems include:
– Coral reefs – while only representing approximately 1% of the earth's surface, coral reefs are considered one of our most diverse ecosystems. Information that we can retrieve from satellites is severely limited by the level of detail they provide as reef features of interest are often very small (<1/2m2).
– Dryland systems – these cover around 40% of the global land surface and are characterised by sparse shrubs, grasses and small trees, and despite their low biomass, may hold the key to understanding how the global carbon cycle changes from year-to-year. Here, the satellite signal is severely affected by soil-background effects, which in coarse-grained pixels can mask the year-to-year changes in vegetation productivity.
We need fine-scale spatial observations that can elucidate these dynamic processes and inform improved estimation of global-scale impacts and feedbacks from satellite data. Enter, the drone.
Whilst it is tempting to imagine that consumer drones, costing just a few hundred pounds, might be the mainstay of hobbyist model aircraft flyers, this lecture will encourage you to think again. Consumer grade drones are actually very widely used by scientists, who have adopted and adapted this technology to provide new data for monitoring environmental change. Our seminar will showcase the latest research, showing how cutting edge drone methods are changing the way we understand coral reef and dryland ecosystems.
Dr Karen Joyce (James Cook University, Australia) and Dr Karen Anderson (University of Exeter, UK) are environmental scientists who study dynamic ecosystems using drone-based remote sensing. In this lecture they will explore some of the challenges involved in acquiring drone-based image data that's worthy of scientific enquiry for environmental monitoring purposes with a particular focus on research on the Great Barrier Reef (Karen Joyce) and in the drylands of the South Western USA (Karen Anderson).
Field and image data collection in these environments holds its own set of unique challenges that drones can both help to solve, and create, and we will share our experiences learned from exploration, discovery, and mishap in developing suitable image acquisition and processing workflows. We will also look at how drones can be used as the 'hook' to capture our next generation of geospatial scientists through STEM education that's beyond the stereotypical labcoat.
This lecture is free to attend for both members and non-members. To register, please click the 'Book Now' button below or contact the Conference and Events Team via conference@aerosociety.com
Speaker Details
Dr Karen Joyce (James Cook University, Australia) and Dr Karen Anderson (University of Exeter, UK)
Dr Karen Joyce is a senior lecturer in remote sensing and spatial science at James Cook University in Cairns, Australia. Karen's research focusses on using remotely sensed data from satellite and drone based platforms to help understands patterns and processes in the environment, particularly on coral reefs. She is the founder of She Maps, an 'edutainment' organization designed to bring diversity to how we think about STEM and who can or should get involved. Her programs have spread around Australia, the United States, and are soon to launch throughout southern Africa.
Dr Karen Anderson is a physical geographer and remote sensing scientist at the University of Exeter's Environment and Sustainability Institute. Her research addresses questions about the relationships between spatial pattern, volumetric structure and ecosystem function in vegetated systems using remote and proximal sensing observations. Karen founded, and leads the DroneLab research group at Exeter. Together with her research group, and wider collaborators, Karen's work has developed new ways of measuring biomass variations in drylands, hydrological functioning in wetlands and spatial distribution of urban ecosystem services, using spatial data captured by satellites, aircraft and drones.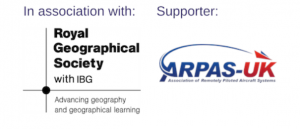 Location
No.4 Hamilton Place
Royal Aeronautical Society Headquarters
No.4 Hamilton Place
LondonW1J 7BQ