Faced with huge bills to repair their crumbling spires, leaky roofs and weathered gargoyles, the country's churches and cathedrals have had to seek help from on high. Not from God, but from drones.
Britain's largest insurer of church buildings has started deploying the aircraft to perform aerial surveys, using a bird's-eye view to assess the extent of damage and deterioration to features that are too lofty to be safely reached by ladder or even abseiling surveyors.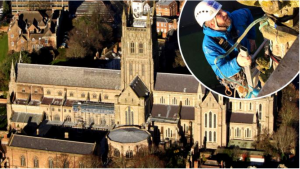 The cost of repairing and maintaining a 900-year-old cathedral can spiral into the millions of pounds but it can also be expensive and dangerous to carry out surveys as inspectors need access to spires, towers and turrets hundreds of feet above ground.
The insurance group Ecclesiastical has brought in drones as part of a trial to assess the condition of the churches and cathedrals it insures.
The group has used the technology on two Church of England buildings and a school and will extend its trial to other sites. A spokesman said: "So far the technology has revealed damaged and loose high-level slates, tiles and stonework and missing pointing."
The oldest parts of Worcester Cathedral date back almost a thousand years to 1084, with other parts added over subsequent centuries. It costs £7,500 per day to maintain the cathedral, which has spent more than £800,000 on repairs to internal elements such as the medieval ceiling in its library and its Great West Window in recent years. Work to its 62m tower has had to wait, however, as it has proved too expensive and difficult to carry out a full survey.
The internal stonework of the tower dates back to the 14th century, but it was re-faced in the 19th century. The future King Charles II is said to have watched the Battle of Worcester from the top of the tower during the civil war in 1651.
"We were conscious that parts of the tower needed to be inspected but the costs and logistical challenges of doing this meant we had not been able to do so," Val Floy, the cathedral's chief operating officer, said. "The imagery captured by the drone will enable us to do an initial assessment so we can prioritise future work and inspections."
St Hilda's, a church in Halifax, was built in 1911. It is aiming to raise at least £15,000 owing to the "urgent need for extensive work to be carried out on the fabric of our roof", according to the parochial church council.
The Rev Caroline Greenwood, the church's vicar, said: "We've known about issues with the church's guttering for some time but haven't been able to get up to the roof to inspect them properly.
"Now we have really clear pictures of the problem and we can submit the photos as part of our grant application and hopefully that will strengthen our case."
Mark Matthews, risk management director at Ecclesiastical, said that ancient buildings presented "unique" challenges when it came to maintenance. They often face particular difficulties in trying to access precarious spires and pinnacles that reach up to the heavens.
"The use of drone technology provides access to high-quality imagery and very accurate data, which can be difficult to obtain via traditional surveying methods," Mr Matthews said.
The insurance group also used a drone to assess a school in southern England and said: "They received a shock when the drone revealed a number of footballs, rugby balls and tennis balls sitting on the roof of its new sports hall blocking the gutters."
A spokesman said the technology could help churches to obtain more accurate information when deciding how best to protect and preserve their buildings. He added: "The data gathered from the drones will also enable Ecclesiastical to calculate reinstatement or restoration values with more certainty reducing the risk of underinsurance for its customers."
The National Churches Trust has used Heritage Lottery Fund money to explore the use of "unmanned aerial vehicles" to survey churches, using drones to produce 3D computer images of buildings.
One church in north Yorkshire had to cut short a drone survey of damage caused by pigeons in 2015, however, when they were warned that the operator had not received permission from the Civil Aviation Authority.
The battle to preserve ancient churches has lead to an arms race, amid reports that gangs of organised criminals have used drones to identify which churches have lead roofs ripe for theft.
Winged messengers
Although they can be used by troublemakers to bring airports to a standstill, or by criminals to survey homes that they want to burgle, drones have many positive uses:
● Police forces have begun using drones to search for missing people, photograph crime scenes, track down suspects and monitor crowds. The approach is particularly useful in rural areas; the police in Suffolk use the devices to spot illegal hare coursing with dogs.
● The online retailer Amazon made its first delivery by drone in December 2016 and plans to introduce Prime Air, an airborne version of its rapid delivery service.
● Last year a baby on the Pacific island of Vanuatu became the first person to receive a vaccine delivered by a commercial drone, which was flown by Unicef over 25 miles of rugged terrain that would take hours to cross by other means.
● Drones have been used to gather the information to create 3D computer models of bridges for surveys to detect structural flaws.
● Ecologists are increasingly using drones for unusual tasks, including counting herds from the sky and collecting snot from a whale at sea.
From The Times
12/2/2019
Kaya Burgess, Religious Affairs Correspondent