For More Art's premiere international commission, Krzysztof Wodiczko will work closely with members of Milan's growing immigrant population to explore the complexities of life as a refugee on a continent that is increasingly hostile towards foreign newcomers. The technologically pioneering installation will be launched during Milan Photo Week and feature several drones flying over the city center, projecting both image and sound to audiences below.
During the live performance, a swarm of customized drones carrying LED screens and amplified sound will implicate the public in a series of intimate debates led by immigrant Milanesi. The eyes and the voice of the airborne machines will belong to a cast of migrants ranging in immigration experience, national origin, and age. To produce this complex work, More Art has engaged with Fondazione Casa della Carità, a social institution which provides housing, counseling, medical services, occupational mentorship, cultural initiatives, and legal aide programs to the homeless, roma people, and immigrants living in informal settlements or irregular camps in the outskirts of Milan.
Download the press release (English)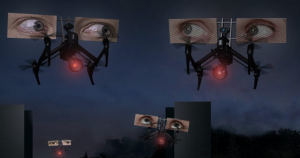 the context.
As the so-called refugee crisis and rising nationalistic sentiments continues to unfold in Europe and The United States, citizens are demanding more and more strict immigration laws. Though the media is often preoccupied with how the crisis will impact the lives of the native population, the voices of immigrants go unheard. In an effort to foster dialogue and mutual understanding, Loro (Them)will offer a platform for rendering the perspectives of invisibilized members of society.
While drones have gone from being a strictly military security resource to having numerous recreational and humanitarian applications, the connotations of fear, automation, and surveillance remain. To many people, drones are linked to danger and intrusion, painted as inhumane devices. With this project, Wodiczko is turning these connotations on their head, using drones to emphasize individual experiences, to call out the fear that drones invoke and replace it with empathy. Wodiczko strives to bring to light the complexities of immigrant identities today, not just in Italy but around the world.
On the occasion of Milan Photo Week and with the sponsorship of the Municipality of Milan and the Departments of Culture and Social Services, the project will take place at dusk between 8:30pm and 9:30pm on 6th, 7th and 8th June at Alberto Burri's Teatro Continuo in Parco Sempione.
Since the 1980s, Wodiczko has pioneered the use of new technologies to bring attention to situations of marginalization. In the case of Loro (Them), he uses drones at low altitude to generate conversations between individuals of different backgrounds, experience and age. To produce this complex work, More Art and Wodiczko partnered with Casa della Carità, a social institution which provides housing, counselling, medical services, occupational mentorship, cultural initiatives, and legal aide programs to the homeless, Roma people, and immigrants.
Drones are often associated with images of war, surveillance, intrusion and fear, but in the case of Loro (Them), the artist will quite literally anthropomorphise the aircrafts to reclaim a broader conversation about technology's relationship to humanity. During the performance, four drones will be equipped with two screens showing only the eyes of the people involved in the project. A megaphone-like mouth will amplify each participant's story with candor and frankness. Faces will not be shown to protect the individuals' identities, but the eyes and the voice will create a relationship with, and at times directly address, the public.
Each drone represents a person, elaborating on the lived experience not only of immigration, but more generally of social and political marginalisation, addressing highly topical issues such as co-habitation, citizenship, representation, and even hospitality. The title of the project immediately emphasises the distance that is created between those who are mistakenly considered different – highlighting the all too familiar 'them' versus 'us' dichotomy. At the same time, the artist seeks to cancel this divisive space, putting audiences face to face, albeit virtually, with real stories and real individuals.
A conversation on immigration and marginalization is scheduled for 10:30am to 1:00pm on Saturday 8th June at the Catholic University of the Sacred Heart in Milan. The meeting features Krzysztof Wodiczko, More Art founder Micaela Martegani, sociology professor Bruno Milone, and curator Gabi Scardi. The conference is moderated by Francesco Tedeschi, professor of contemporary art. This event is being held in Italian.
Loro (Them) is organised in co-operation with the Adam Mickiewicz Institute.
Patronage of the City of Milano in partnership with Assessorato alla Cultura and Assessorato alle Politiche Sociali (Department of Culture and Department of Social Services).
Supported in part by nctm e l'arte a project by Nctm Studio Legale, Galerie Lelong, Fondazione Stelline, Università Cattolica.