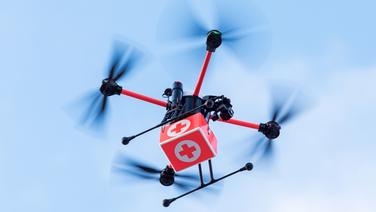 Using a drone, for example, tissue samples can be quickly transported from clinic to clinic.
An unmanned drone for the urgent transport of medical tissue samples between two hospitals has been successfully tested in Hamburg. The drone completed six flights on Wednesday over the almost five kilometers long distance between the Bundeswehr Hospital in Wandsbek and the Marien Hospital in Hohenfelde. This was announced by the Medifly research project.
Drone faster than an ambulance
The knowledge gained from this should flow into a trial run over several months. Medifly wants to find out whether urgent tissue samples can be transported reliably and safely with a drone. Tissue samples are often taken during surgery and must still be examined during the operation. The operation is interrupted for so long. If the expert for the examination is not in the same clinic, the sample has so far been transported by ambulance. The biggest advantage of the drone: it is not stuck in a traffic jam and can therefore shorten the treatment time for patients on the operating table.
Medifly: First tissue transport by drone
Transport without traffic jams: For the first time, a 10kg drone has brought tissue samples from the Bundeswehr hospital to the Marienkrankenhaus, which is almost five kilometers away. The flight took 10 minutes.
The drone performs the tests at an altitude of around 75 meters. Six marshals secure the route of the drone, which theoretically, however, can also manage its way on its own. Medifly's partners include Lufthansa Technik and the Hamburg Economic Authority.
Westhagemann: A lot of potential
"We have taken a big step today for the future use of drone systems," said project manager Boris Wechsler. Senator for Economic Affairs Michael Westhagemann (independent) said that the technology of unmanned aerial vehicle systems offers the German economy a lot of potential and growth opportunities.
Hamburg Journal – 05.02.2020 7.30 p.m.