ARPAS-UK Member, Moonrock Insurance, have started offering No Claims Discounts on their drone insurance.
This is great news for the future of the drone industry and we are delighted to see this happening.
Any commercial pilot with 2 years of no claims can apply for this insurance and will receive a discount.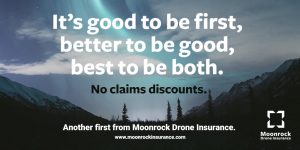 www.moonrockinsurance.com
Twitter: @crazy4drones
FB: @moonrockinsurance
Tel: 02039 150555