In the early hours of January 11th 2019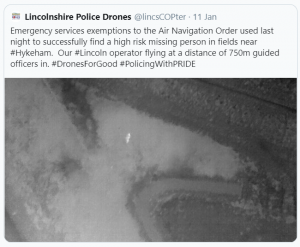 Lincolnshire Police found a high risk missing person near Hykeham, on the edge of Lincoln. To do so they had to use their Emergency Services Exemptions to the Air Navigation Order, extending their operator distance from 500m to 750m.
There is a common misconception that the Police can fly where and when and how they want. This is not the case, as clearly laid out on the CAA website. There are exemptions though, as mentioned in ANO Article 266.
The use of these exemptions is monitored carefully both on an internal basis by the relevant Force and externally by the CAA in order to ensure the criteria are met. It is a decision usually made by the highly trained remote pilot and the on scene supervisors.
In this particular case, the decision was the correct one and the missing person was located faster than by traditional methods. This means help can be provided more quickly and the Police redirected to the next case more quickly too – a great result all round.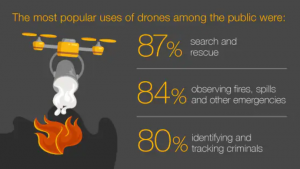 In the UK, Emergency Services hold about 50 PfCOs between them. They do an incredible job keeping the UK people safe in a variety of scenarios: from missing persons, to mapping traffic accidents quickly in order to reopen roads, crowd control at a variety of events, thermal imaging heat sources at fires and more.
They are also at the forefront of what the General Public deem acceptable. According to a PwC survey carried out in April 2019, more than 80% had positive feelings towards the Emergency Services using drones.  The engagement that individual Emergency Services have with the Public is helping to improve the Public's Perception of Drones. They regularly post about how they use the drones, in what circumstances, and will engage with the Public to correct misconceptions and encourage safe drone flying in accordance with the CAA regulations.
ARPAS-UK recognises the skills, competence and training that the Emergency Service UAV teams bring to the UK. We work with Emergency Services teams all around the UK. If you are a member of one an Emergency Services using drones, do get in touch if you would like to know more about what we do.  membership@arpas.uk