In a global first for the network, PwC UK has undertaken a stock count audit using a drone, as part of a wider drive to harness emerging technologies to enhance audit quality and efficiency and transform the audit process.
Hemione Hudson, head of assurance at PwC, commented:
"Technology is an enabler for positive change and this drone-assisted stock count is an illustration of how we are using technology to enhance audit quality and efficiency. It's just one
example of the benefits that come from bringing our technologists from across PwC together with our auditors.
"Drones are just one of a number of technologies that could improve audit quality in different ways across different sectors. But maximising the benefits of emerging technologies is reliant on having the right people with the skills to interpret the resulting data. We are constantly investing in attracting the best people into our business and training them in new technologies to ensure our audit quality continues to improve."
About the drone stock count:
The drone, which was manufactured and operated by UK drone company QuestUAV, was used to capture over 300 images of the coal reserve at one of the UK's last remaining coal-fired power stations, Aberthaw, in South Wales, owned by one of Europe's largest energy firms, RWE.
The images from the drone were used to create a point cloud 'digital twin' of the coal pile in order to measure its volume. The value of the coal was then calculated to within 99+% accuracy based on that volume measurement.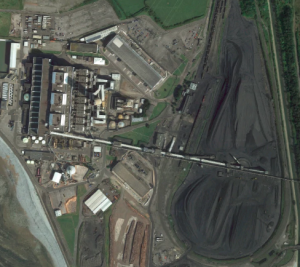 Figure 1: Aerial image of the site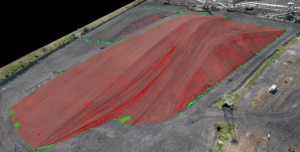 Figure 2: The 'digital twin' created of one of the coal heaps, showing the points measured by the drone

Figure 3: The images captured by the drone are processed using photogrammetry, where the images are 'stitched' together and compared to determine how many points they have in common with one another.
Read more: https://www.pwc.co.uk/press-room/press-releases/pwc-first-stock-count-audit-drones.html