A Review – by Dr Sue Wolfe
Following on from a previous collaboration between ARPAS-UK and Highlands & Islands Enterprise, the Scottish Drone and UAV Expo built on experience and feedback to present a one-day conference and workshop event. The restricted-number event proved highly popular, attended by well over 50 delegates from a wide range of backgrounds.
The event combined presentations from specialist speakers, an exhibition of "tools of the trade" and a more informal series of workshop-style sessions examining regulation, mission planning/data processing and a lighthearted round up of some speakers' experiences, aka Tales of the Unexpected.
Morning Programme: Developing Applications
The day focussed on a range of applications relevant to the Highlands and Islands region, and the morning provided some fascinating insights into the changing face of some key sectors and the approaches some sector-specialist drone operators were adopting.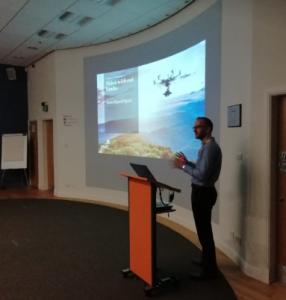 Craig Roberts from PwC described the potential for a contribution of up to £42billion to the UK's GDP from the drone economy, with up to 76,000 drones in use by 2030. The drone economy included all productivity improvements from end-user industries, but Craig stressed that the predictions would only be realised through "digital transformation", i.e. where industries re-rvaluated their structure and processes to take account of new technologies, including drone-derived data.
Jim Maine kicked off the first session, on siteworks and survey, describing Caintech's approach toworki ng with clients to provide fly-through models using point cloud data. Using a TopCon UAV with
laser scanning and RTK positioning, Jim also alluded to the challenge of providing the large volume of information and data to clients in a meaningful way, as many would not necessarily have the capacity to assimilate and interpret such large datasets.
Craig Jump followed on to discuss his experiences on roof inspection in a distillery. Whilst there were significant benefits and cost savings to be made by the use of drones, Craig described thecomplexity of the challenges and risks associated with planning the operation.
Moving onto the energy sector, Tony Fong from the Offshore Renewable Energy Catapult provided an overview of how the sector was developing apace, and the role of the Catapult not only in
research, but also providing facilitation in the digital transformation process – understanding the requirements for drone data and how it would be used. In particular, the future of the offshore renewable wind energy sector is partly dependent on cost-effective inspection and maintenance, and drones play a potentially significant role. Phil Buchan provided an insight into Cyberhawk's broad experience of operating drones across the breadth of the energy sector, including energy
distribution. In particular, Phil focussed on the challenge of providing clients with systems for easily accessible solutions, and not large or complex datasets.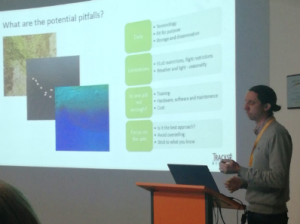 Matt Harmsworth from ROAVR started the session on the environmental and land use sector, describing some of the challenges in the forestry sector, particularly given forestry topography, and issues of existing forest plans and boundaries generally being out of date. He also talked about work on assessing and mapping giant hogweed, and the role of fixed wing drones for this type of mapping. James Bunyan followed on to discuss how drones are used as part of the toolkit of Tracks Ecology. He talked about the need for ecological survey to be a hard science, providing quantitative solutions to clients, and requiring quantitative data. James gave examples of how drones are used to help support habitat survey mapping, and also to survey buildings to assist in monitoring bat roosts.
While the morning presentations covered a wide spectrum of applications and subject matter, there were significant common messages coming across from every speaker:
The importance of client communication, and presenting solutions in easily accessible formats, rather than large amounts of data and information
The significance of sector knowledge. As the market for drone-derived solutions becomes more discerning, it was considered essential now that drones should either be used as part of a toolkit within an industry sector, or that drone service providers had specialist knowledge of the sectors they operated within.
Afternoon Programme: Tools of the Trade
Matt Harmsworth and Craig Jump led a series of two parallel sessions looking respectively at regulation and mission planning /data processing. These small group sessions provided delegates with the opportunity to hear about current state of the art, best practice and likely future changes as well as asking questions about some of their own areas of work. There was particularly positive feedback about the usefulness of these sessions.
The day concluded with a little story-telling: short and humorous experiences from Richard Elliott, Matt Harmsworth, Craig McDonald and Craig Jump – cautionary tales from the unmanned sector!