Immediately before lockdown, a team from Snowdonia Aerospace, with partners SwiftFlight Avionics, University of Manchester and the Welsh Ambulance Service, completed a successful flight demo that showed proof-of-concept for beyond visual line-of-sight (BVLOS) delivery of a defibrillator by drone to a remote, rural location that would be difficult to reach with an ambulance in a timely fashion.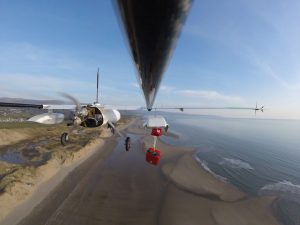 This is the first demo of this type in the UK and one of only a handful that have been conducted worldwide. The project was conducted at the Snowdonia Aerospace Centre, Llanbedr, North Wales, and funded by the UK Space Agency and Welsh Government under a National Space Technology Programme/Space for Smarter Government Programme to show how satellite-enabled drones could be used as part of a broader satellite-enabled network to support remote healthcare services in rural Welsh communities.
Snowdonia Aerospace are also very grateful to Schiller UK for the loan of a FRED easyport mini defibrillator. The defibrillator was delivered by parachute drop to a "first aider" and "casualty" on a remote beach. The drop point was 4.5 kilometres from the launch location and took 2 minutes 50 seconds to complete, whereas an ambulance would have taken an estimated 20+ minutes to reach the same location.
Chris Maltby in his blog says "A defibrillator is its most effective when administered within the first minute of a victim collapsing and if a defibrillator is used within the first 3 to 5 minutes, the likelihood of survival increases from 6% to 74% therefore, having a defibrillator close by really makes all the difference."
Snowdonia Aerospace and partners are looking forward to continuing the BVLOS capability development as part of the upcoming UK Research & Innovation Future Flight Challenge and engaging with other emergency response stakeholders.
Snowdonia Aerospace are ARPAS-UK members, and also great supporters of the Institute of Mechanical Engineers' UAS Challenge.
15th April 2020