DRONES AND UAVs – Scottish Industry Expo
8 November 2018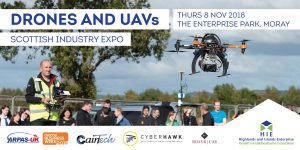 A one-day conference to get hands-on and clued-up on the very latest in Drones and UAVs, and why they are changing how we work. This is a must attend event for anyone who wants to tap into the expected £42bn increase in the country's GDP as a result 76,000 drones likely to be in the UK skies by 2030.
Whether drones are already part of your business, you want to introduce them, or you want to know exactly what you need when buying in drone services this event is for you:
Access the 'Safety and Regulation Zone' to attend a 'mini safety briefing', find out more about training, certification and the regulations required.
Explore the 'Drone zone' to see the some of the latest fixed and rotary wing drones and sensors, find out how they operate and what they can do.
Go to the 'Mission planning and processing' briefing to find out about software to help plan operations and get the most from data that can be gathered.
Gain tips and experiences from some leading drone operators about how to cope with the unexpected.
How can you be part of that growth? Craig Roberts, Scotland-based member of PwC, leading UK professional services firm, will give us some insight.
Find out how Drones are really being used in some of these progressive areas –
Construction and Siteworks: Hard to reach locations, surveying large areas, topographical survey, improving safety by taking people out of hazardous environments – drones are becoming increasingly important for both safety and cost saving in the construction sector. Costain, the large technology-based construction and engineering company, part of the original Channel Tunnel consortium, and local experts Caintech Ltd will bring their in-depth knowledge to talk about these latest developments and look at the changes new technologies can bring.
Building and Asset Inspection:  From roof inspections through to the harsh environments of power utilities onshore and off-shore, UAVs provide safe, timely and cost effective alternatives. There will be talks that look at the full range of options from owner-operated, through to simple planned inspections and the leading edge deployment. Scotland-based Cyberhawk Innovations is a world leader in UAV inspection and pioneer who have completed more than 30 world firsts since their inception and the multi-disciplined Turkey Red Media have key expertise supporting a range of Scotland-based enterprises, including distilleries and national parks.
Environmental Monitoring and Land Use: Agriculture, Land Management, Wildlife Monitoring, Forestry and Flood monitoring are just some of the areas where drones are playing increasingly important roles. Talks will feature how drones are being used in forestry and conservation work that focusses on invasive species and habitat monitoring as well as wildlife conservation and flood monitoring.
There will also be plenty of time for discussion and networking. Along with a Buffet Lunch and refreshments throughout the day.
Delivered in partnership by Highlands and Islands Enterprise (HIE) and the Association of Remotely Piloted Aircraft Systems (ARPAS-UK)
Part of Moray Business Week
Tickets: https://www.eventbrite.co.uk/e/drones-and-uavs-scottish-industry-expo-tickets-48908647080