Jointly with Wrexham Glyndwr University, Faculty of Arts, Science and Technology Unmanned Aircraft Systems — Developments in North Wales
11 March 2020
Chester Branch
Lecture
This is a joint lecture held at an earlier time, and away from our usual venue.
Exciting developments in Unmanned Aircraft System technology are happening in North Wales.
This lecture is a series of short talks discussing the wide extent of UAS technology applications in the region and highlighting Glyndwr University's participation and role in these developments. This series of short talks will feature: novel composite technologies, pseudo-satellite UAS research and development, electrical propulsion for high speed flight, 3D image capture and model generation and the International UAS Challenge student competition entry design  for 2020.
No entry fees will apply at this event.
Prior registration is not required.
Speaker Details
Lead lecturers: Martyn Jones & Rob Bolam, Wrexham, Glyndwr University Faculty of Arts, Science and Technology
Location
Chester Branch
Nick Whitehead Theatre, Wrexham Glyndwr University, Mold Rd, Wrexham LL11 2AW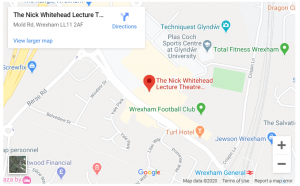 This is a Royal Aeronautical Society Event.