Vodafone has released a new report on Cellular-connected Drones: The benefits to society of regulated drone use
A WPI Economics report for Vodafone UK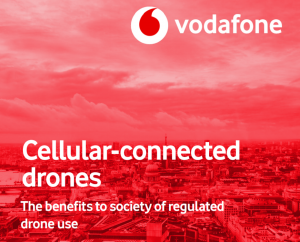 This report examines the potential for drone use in the UK and the benefits to society that could arise from safe and secure use of drones. We set out the part that cellular-connected drones can play in enabling some of the most beneficial uses and present new polling evidence on drone use. Through five case studies we explore the range and types of benefits that well-regulated drone use could bring.
It makes for interesting reading, spanning a variety of use cases and finishes by making three recommendations:
The 'blue light' drones fund: The Government should establish a fund to allow emergency services and NHS trusts to trial drones for new purposes, where the evidence for their  operational benefits needs to be better understood.
Establishing further testing facilities for Unmanned Traffic Management systems: The Government should act on the recommendation of the House of Commons Science and Technology Committee59 to establish and fund further testing facilities in which Unmanned Traffic Management (UTM) systems and related technologies, including Beyond Visual Line of Sight operations, can be tested.
Explore the value of cellular connectivity for establishing UTM systems, dynamic no-fly zones and electronic detectability: As set out in this report, cellular connection of drones uses the pre-existing availability of worldwide connectivity and offers several capabilities, such as dynamic no-fly zones, necessary to build a safe and secure system. The Government should ensure this potential is fully understood, to build the case for mandating cellular connectivity.
A sentence that stood out for its clarity of thought is: "Some of these muted responses are perhaps unsurprising given that a key factor in public opinion towards drones is knowledge" when talking about people's responses to the Vodafone commissioned survey. Clearly something for us and the wider drone industry to work on.
To read more from Scott Petty, Chief Technology Officer for Vodafone, on drones: Click Here.
January 22nd, 2020